GYXTW 2F-24F outdoor Optical Fiber Cable
Product Detail
Product Tags
GYXTW single-mode/multimode fibers are positioned in the loose tube, which is made of high modulus plastic materials and filled with filling compound. PSP is longitudinally applied around the loose tube, and water-blocking materials are distributed into interstices between them to guarantee the compactness and longitudinal water-blocking performance.Two parallel steel wires are placed at both sides of the cable core while PE sheath is extruded over it.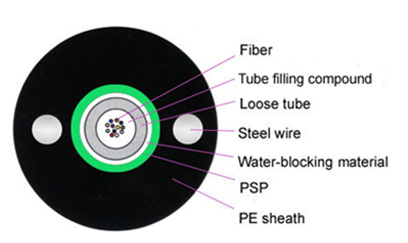 ●High tensile strength of stranded wires meet the requirement of self-supporting 
●Good mechanical and temperature performance
●High strength loose tube that is hydrolysis resistant
●Special tube filling compound ensure a critical protection of fiber
●PSP enhancing moisture-proof
●Small diameter, light weight and friendly installation
●Long delivery length .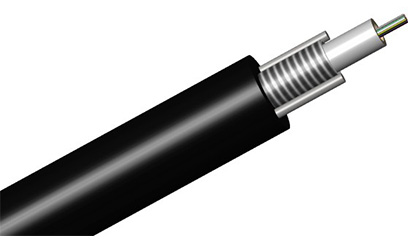 1.Adapted to outdoor distribution.
2.Suitable for aerial, pipeline laying method.
3. Long distance and local area network communication.
4.  fiber optic cable price per meter
Cable Count

Out Sheath Diameter(MM)

Weight

(KG)

Minimum Allowable Tensile Strength

(N)

Minimum Allowable Crush Load (N/1000mm)

Min Bending Radius

(MM)

Suitable Temperature

Short term

Long term

Short term

Long term

Short term

Long term

(℃)

2

8.3

78

1500

600

1000

300

20D

10D

-40+60

4

8.3

78

1500

600

1000

300

20D

10D

-40+60

6

8.3

78

1500

600

1000

300

20D

10D

-40+60

8

8.3

78

1500

600

1000

300

20D

10D

-40+60

10

8.3

78

1500

600

1000

300

20D

10D

-40+60

12

8.3

78

1500

600

1000

300

20D

10D

-40+60
GY → Outdoor Optical Cable Communication
X → Cable Center (coating) structure
T → Ointment filling structure
W → Parallel bonded wire+PE jacket
Fiber Type

Multi-mode

G.651

A1a:50/125

Gradient-type refractive index

A1b:62.5/125

Single-mode

G.652 ( A, B, C, D )

B1.1 Routines

G.653

B2 Zero dispersion-shifted

G.654

B1.2 Cutoff wavelength shift

G.655

B4 Non-zero dispersion-shifted
---
---
Write your message here and send it to us